Publishers need visibility into publication data in order to manage workflows successfully.
Solving the Problem
Editorial Manager and ProduXion Manager include the Enterprise Analytics Reporting (EAR) module to provide publishers with a flexible reporting solution that works for single journals as well as for large, global portfolios.
How Does It Work?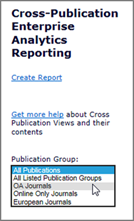 EAR reports can be accessed from a list of "standard reports" and run with a single click. Additional standard reports are added with each new Editorial Manager release. Standard reports include presentation of data in chart, gauge, summary, and detailed format for onscreen viewing (Windows and Mac). Report data can also be exported in several formats including: Word, Excel, XML, and PDF. Administrators can access EAR settings from the main menu. Reports can be linked to specific roles via Role Manager settings. Cross-publication reporting groups can be set up to offer simple access to key data on subsets of a portfolio's journals, for example, European Journals or Open Access journals.
To see EAR in action, view our webinars, or browse the EAR Series video library.