Aries wins Second Place at the NEPCo Awards
What an interesting evening! Aries' integration with the Copyright Clearance Center's RightsLink for OA finished second to Harvard University Press at the New England Publishing Collaboration (NEPCo) Awards at the Central Square Theater this evening.
Also making the cut for awards, American Meteorological Society in third, and Kudos as the audience voted favorite.The finalist pool included the following organizations, and collaborators: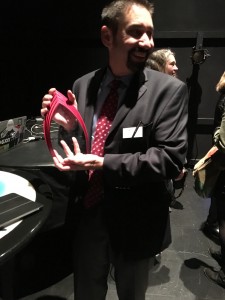 American Meteorological Society (collaborating with Second Nature)
Aries Systems (collaborating with Copyright Clearance Center)
Black Key Press (collaborating with 20+ New England journals)
Candlewick Press (collaborating with FableVision) *wildcard*
Harvard University Press (collaborating with archives across Massachusetts)
Isaak Books (collaborating with Western Kentucky Bookstore and Pearson Education)
Jones & Bartlett (collaborating with ExcelSoft and Blackboard)
Kudos (collaborating with several publishers, including Emerald Group and the Journal of Bone and Joint Surgery) *wildcard*
Safari PubFactory (collaborating with Harvard University Press)
Delivering Aries' prizewinning presentation, Director of Product Management, Tony Alves (pictured above). Learn more about the NEPCo program.