Events
Aries' events calendar consists of industry conferences, user group meetings and virtual webinars. Please stop by our booth or contact us to arrange a meeting if you are interested in meeting with the Aries team at one of the in-person events below.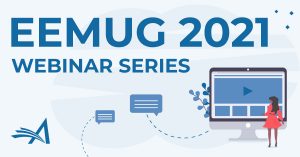 Wednesday, January 27th | 10am EST | Register Now
Part of the EEMUG 2021 Webinar Series.
For more advanced users of Editorial Manager's reporting suite – Enterprise Analytics Report (EAR). This session will demonstrate how to harness the power of canned and custom reports to pull important data that can be analyzed to assess performance and enhance your workflow. End-of-year and beginning-of-year related reports will be highlighted, including year-over-year turnaround time evaluation, Editor activity reports, submission content evaluation, rejection rates, and more!
Speakers:
Michael Hambloch, Data Analyst Specialist, Aries Systems
Star Atay, Account Coordinator, Aries Systems