Overleaf is an innovative provider of scientific writing and publishing tools – specializing in cloud-based scientific documents.The Overleaf platform, with over 200,000 users, is an online service that makes the process of writing, collaborating, editing and publishing scientific content much quicker and easier. It brings the whole scientific documentation process into one place in the cloud – from idea to writing to review to publication. Overleaf is supported by Digital Science, a technology company serving the needs of scientific and research communities. Visit www.overleaf.com and follow @Overleaf on Twitter.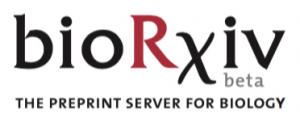 bioRxiv (pronounced "bio-archive") is a free online archive and distribution service for unpublished preprints in the life sciences.  By posting preprints on bioRxiv, authors make their findings immediately available to the scientific community and can receive feedback on draft manuscripts before they are submitted to journals.
Manuscripts are not peer-reviewed, edited, or typeset before being posted online.  A manuscript may be posted prior to, or concurrently with, submission to a journal but not if it has been accepted and given a journal DOI or published. Once posted, manuscripts have a preprint DOI and are citable.  Authors may submit a revised version of a manuscript to bioRxiv at any time prior to publication in a journal.
bioRxiv is operated by Cold Spring Harbor Laboratory, a not-for-profit research and educational institution. Follow @biorxivpreprint on Twitter.

Founded in Japan in 1995, Edanz is a globally recognized author services company. Edanz provides English editing, educational materials and workshops, and other expert services and products that help authors understand the publication process and communicate their research clearly and effectively. Follow Edanz on Twitter: @edanzediting; Find Edanz on Facebook: @EdanzEditing. Visit Edanz to learn more.

LetPub, the only author services company headquartered in the Boston area, helps authors from around the world publish their research. LetPub has a large team of United States-based certified language and scientific editors. LetPub's language and scientific editors are leaders in their fields, teach at top American universities, and hold editing certifications. LetPub provides expert English editing and research communication services as well as editorial support packages for journals, academic societies, and publishers. To find out more about our services and to get a quote visit www.letpub.com.