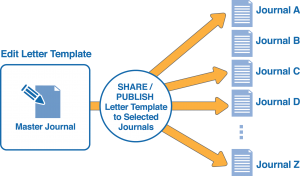 Aries will begin beta testing version 12.1 in June.
Global Editing of Letters is a way to centralize the creation and editing of letter templates and share changes across multiple publications. Shared Letters allow each journal the flexibility to control letter templates, in addition to a set of templates driven and maintained by a central 'master' letter template site.
Contact your Account Coordinator to discuss configuration options or sign up to beta test 12.1!