Aries is committed to supporting clients before, during, and after transitioning from legacy systems to our platform. Each journal using Editorial Manager or ProduXion Manager is matched with a dedicated Account Coordinator (AC). With a deep understanding of scholarly publishing workflows and our systems, ACs help you to understand, navigate and activate the highly customizable configuration options to tailor your deployment to exactly support your journal's unique workflows. Once journal deployments go live, the same ACs continues to provide support and training. Client Services Teams, including management and staff, work from our multiple global locations —United States, United Kingdom and Germany (and our distributor Atlas Corporation in Japan). The geographic distribution of our teams ensures that ACs are poised to provide the help you need, when you need it.
Your Account Coordinator is always ready to help. Call on them to troubleshoot an issue, understand our three feature-rich releases per year, update configuration to keep up with workflow changes, or customize reports within the powerful Enterprise Analytics Reporting tool.
Experts in Smooth Migration
 
Migration Management
Platform migration can be stressful, but it doesn't have to be. By working with Aries, you'll be choosing a workflow solutions partner with extensive experience and a track record of seamless implementations. Thousands of journals have successfully transitioned to Editorial Manager. Regardless of whether EM is new to your workflow, you're activating PM, or unplugging from a legacy system, we are ready to support you from pre-launch through post-launch and beyond. Our accessible, attentive ACs will partner with you early on to identify your objectives, train and configure your deployment to suit, and answer questions along the way.
Meet your Account Coordinator
The average Client Services team member's tenure is approximately 7 years, while their average tenure in scholarly publishing is 12 years. Industry experience ensures that your dedicated AC offers in-context support, leveraging our tools to simplify your workflows, and ensuring that you get the most out of our systems. Through open, consultative communication with your AC, workflow pain points are quickly identified and triaged, allowing your staff to focus on content development rather than workflow minutiae. ACs get to know you personally – after all, nobody enjoys waiting to hear back from a faceless call center representative. Account Coordinators are highly skilled and trained to manage systems transitions smoothly.
Global User Community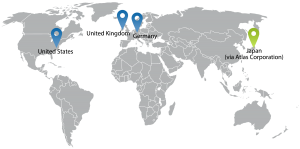 Our commitment to working globally doesn't end with our deployments' multilingual interfaces. EM and PM users across the globe crowdsource topics like best practices, and tips and tricks on our Listserv. Meet and discuss EM with fellow users at our user group meetings. Our user groups meet annually in three locations: United States, United Kingdom and Japan. User Groups offer opportunities to share feedback directly with senior managers and decision makers at Aries, as well as learn about upcoming features and releases.
Professional Management and Systems
Customer queries are tracked using the NetSuite web-based CRM system. NetSuite allows ACs to quickly log, surface, track, and update the status of any open client queries. ACs can communicate client needs to stakeholders in the Aries product management and engineering departments, so that those teams can respond expeditiously to your needs. Reporting out of NetSuite allows Aries management to identify trends, measure query resolution lead times, and drive continuous improvement of the support we provide to our clients.