Highlights from EMUG 2019
Last week, Aries Systems hosted the 17th Annual Editorial Manager User Group meeting (EMUG) in Boston, MA. Attendance at the event was a record high, with a combined total of over 167 customers and staff, 63 of which were first-time attendees!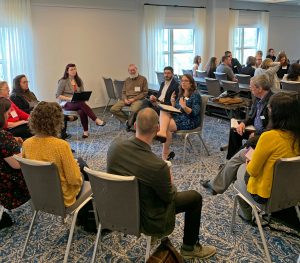 In keeping with tradition, the Feature Workshop was held on the first morning of EMUG following welcomes and opening statements. Considered the most beneficial session among attendees, the Feature Workshop was designed to solicit feedback from direct users of the Editorial Manager and ProduXion Manager systems. Attendees were divided into 12 separate groups, each with at least two members of Aries staff included, for a discussion about their personal workflow challenges and to brainstorm feature suggestions for product improvement. Groups then decided on their favorite ideas and presented them to the entire assembly, where they were voted on via an online poll and recorded by members of the Aries Product Management team as future wish-list innovations. Several of the suggestions proposed during Feature Workshop received applause from other users in the crowd, an indication that those ideas were most popular.
The top features suggested from the Feature Workshop at the previous user group meeting held in January of this year in London, UK (EEMUG 2019) were displayed on a large poster at EMUG 2019. Throughout the two-day meeting, attendees were encouraged to stop by the poster to vote on their top 3 favorite features using stickers provided to them during registration. Check out the results from the interactive features poster below!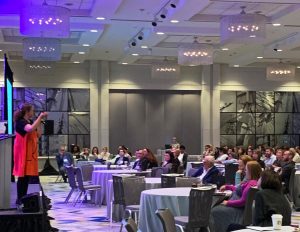 The keynote presentation served as the closing session for day 1 of EMUG. Aries thanks Milka Kostic, Ph.D., Program Director for Chemical Biology at the Dana-Farber Cancer Institute for delivering the keynote address From Making Discoveries to Sharing Knowledge – How Researchers Navigate the Publishing Process. Dr. Kostic shared experiences her peers (fellow researchers) have had as Authors and Reviewers. She highlighted the many challenges researchers face, such as lack of funding and time for research, aging in the community, overproduction of Ph.Ds. with limited career opportunities, mental health, sexual harassment, and more. She challenged journal staff in the audience to think of how they can help researchers as they participate in the publishing process. She suggested four guidelines to be improved upon during the Author/Reviewer experience: timeliness, friendliness, flexibility and clarity. By also posing the question to publishers "what really is a 'value add' for your Authors and Reviewers?", Dr. Kostic left the room buzzing with discussion and questions. Following the keynote, a cocktail reception was held for attendees and Aries staff to network and enjoy hors d'oeuvres while overlooking the Boston Harbor city skyline.
Panel Discussion: FAIR Data, Data Deposit Requirements and Repositories kicked off day 2 of the meeting. Featuring a lineup of six diverse industry experts, the panel addressed what FAIR data is and why it is important, examples of data deposit requirements and how the FAIR Data initiative is supported, services offered by data repositories and how they are used. Aries is grateful to the following guest speakers that participated on the panel: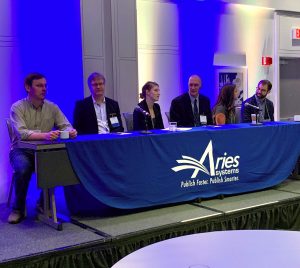 John Chodacki, Director, University of California Curation Center, California Digital Library
Katie Einhorn, Peer Review Manager, American Psychological Association
Michael A. Friedman, Ph.D., Acting Co-Director of Publications/Journals Production Manager, American Meteorological Society
Wouter Haak, VP Research Data Management, Elsevier/Mendeley Data
Daniella Lowenberg, Dryad Product Manager, University of California Curation Center, California Digital Library
Dan Valen, Director, Business Development and Strategy, Figshare
From there, the group moved into more breakout sessions. Popular breakout sessions from the meeting included Identity Confidence Check and People Record Management, Effective Communication in EM: Letters & More, Analytics Showcase, XML Bootcamp, Task Manager Overview, and Update on LiXuid Manuscript. Presentations from EMUG 2019 can be accessed here.
Save the date for our next user group meeting on January 23rd-24th in London (EEMUG 2020). Stay tuned for more details!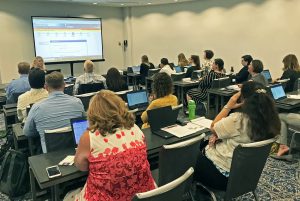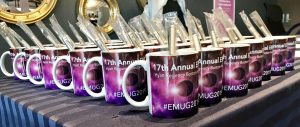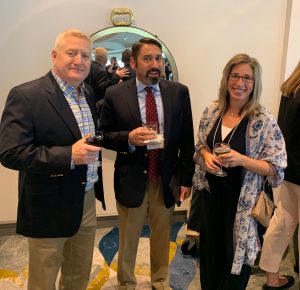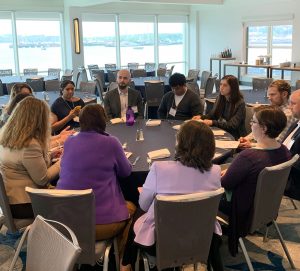 Feature Poster Voting Results: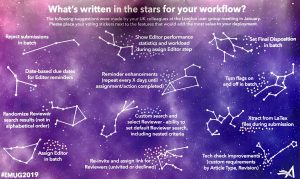 Re-invite and assign link for Reviewers (uninvited or declined) – 34 votes
Show Editor performance statistics and workload during assign Editor step – 28 votes
Reminder enhancements (repeat every X days until assignment/action completed) – 23 votes Assign Editor in batch – 21 votes
Turn flags on and off in batch – 19 votes
Xtract from LaTex files during submission – 19 votes
Tech check improvements (custom requirements by Article Type, Revision) – 18 votes
Custom search and select Reviewer – ability to set default Reviewer search, including nested criteria – 14 votes
Set Final Disposition in batch – 12 votes
Randomize Reviewer search results (not in alphabetical order) – 3 votes
Date-based due dates for Editor reminders – 3 votes
Reject submissions in batch – 2 votes