Workflow Wednesday: General Data Export to Update Letters
It's Workflow Wednesday! This means we're sharing workflow tips and tricks from Editorial Manager and ProduXion Manager users. From quick helpful workarounds to unique and diverse methods of peer review, we'll highlight the real-life ways users interact with EM and PM.
This month's feature workflow tip is from Emily Babcock, Client Manager and Systems Support Project Manager at J&J Editorial, LLC. Emily's suggestion is a great time-saver for journals who want to be sure their system communications are up to date.
General Data Export to Update Letters
"As journal policies and staff change, you may find yourself needing to update Editorial Manager's letters to ensure that outdated information no longer appears in your system communications. While you might be able to catch most of these instances, how can you be sure that you have corrected everything? A great way to be certain is to use the General Data Export feature! Simply go to Reports > General Data Export and choose the "Letter Inventory" table. From here you can set up a simple search: Text Letter CONTAINS [information that needs to be updated] AND Rich Text Letter CONTAINS [information that needs to be updated]. Once the report generates, you can do a Ctrl + F search in your browser window to check where the relevant information is written and then can easily go into the System Admin Functions to change it without having to hunt through each letter individually.
Remember that Editorial Manager preserves two versions of system letters–a Plain Text and an HTML-enabled option. The search criteria above will pull both versions into the report, though one is only being actively used. When updating your journal's information, make sure you're looking at the right version of the letter and have it toggled correctly!" – Emily Babcock, Client Manager, Systems Support Project Manager, J&J Editorial, LLC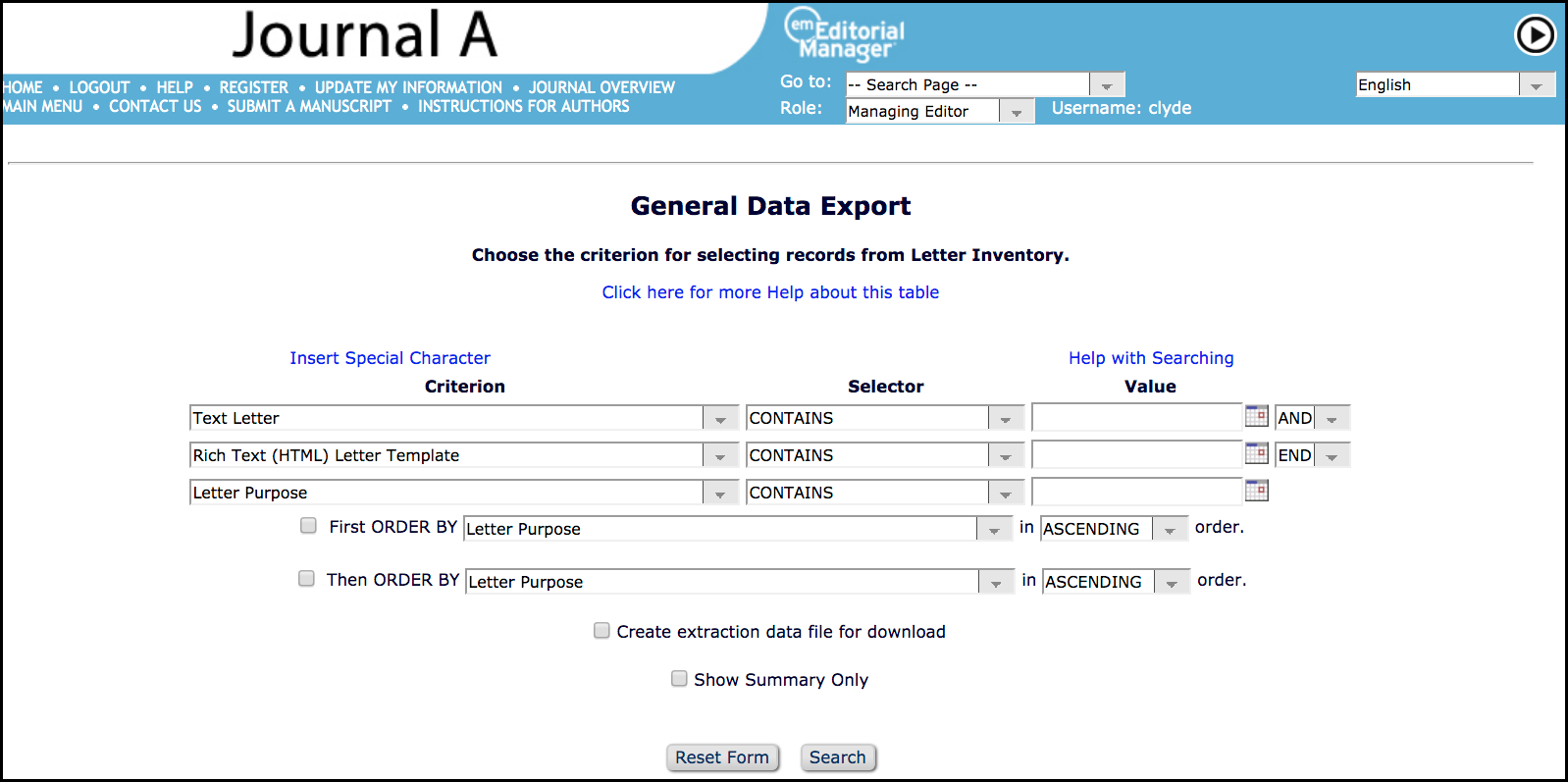 Many thanks to Emily for participating in Workflow Wednesday! Is your journal using a unique workflow or feature? We want to hear from you! Send us your tips, tricks, suggestions, or example workflows. We're happy to credit your suggestion to you or keep it anonymous if you prefer. You can also tag us or direct message us on social media with your tips.
Need help implementing this workflow? Contact your Aries Account Coordinator for help.