Aries Systems Continues Support for the OA Switchboard
The OA Switchboard, an initiative by the Open Access Scholarly Publishers Association (OASPA), is a not-for-profit, industry-wide collaboration that aims to serve as an intermediary between the complexities of multi-lateral Open Access (OA) publication-level arrangements by functioning as a central information exchange hub. The OA Switchboard strives to enable the seamless sending and receiving of messages relating to the publication of open access research outputs for participating publishers, academic institutions, and research funding organizations.
Aries Systems is a proud sponsor for the OA Switchboard, with over $20,000 donated to date. Jennifer Fleet, Aries Managing Director, also serves as a member of the OA Switchboard Advisory Group. Furthermore, Aries has collaborated with the OA Switchboard on an integration with Editorial Manager® (EM), which leverages Aries' web services API to allow Authors, funders, and publishers to connect and track key funding data and streamline communications between the two platforms. The Microbiology Society was among the first to implement the Editorial Manager and OA Switchboard integration through one of their publications.
Most recently, Aries Systems hosted the OA Switchboard's webinar, Matching Publication Costs with Publication Funds, on Wednesday, September 8th. It may be complex for funders or research institutions to assess if and how a certain OA publication meets requirements and to track publications, spend, and sponsorship. Additionally, it may be difficult for publishers to determine if an article publication satisfies and Author's OA requirements and to secure publication funds. This highly practical, evidence-based session covered this unique challenge as well as real use cases on how the OA Switchboard can play a role in the solution. Star Atay, Aries Account Coordinator, joined 13 other guest speakers from various industry organizations in a series of lightning presentations.
Alex Howat, Publishing Operations Manager at Microbiology Society, also participated in the session, providing a glimpse into their workflow using the custom connector between Editorial Manager, the OA Switchboard, and other systems to enable full article lifecycle view. This allows them to better support Authors in their publication journey and help them find options to pay for the OA publication charges.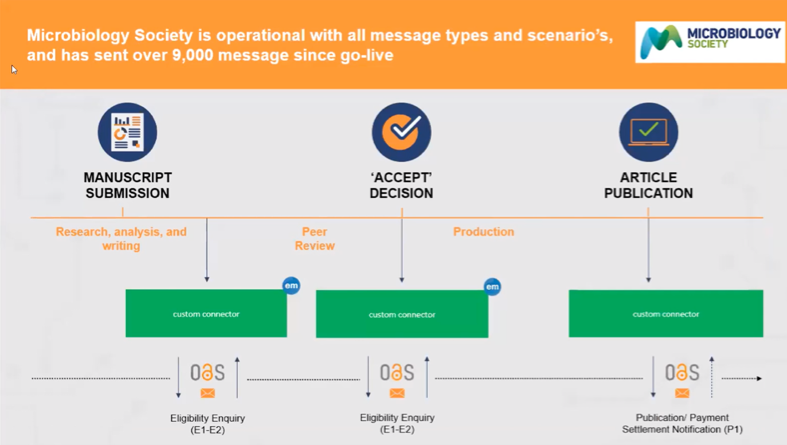 The Microbiology Society is continuing to make strides in this area, including their Wellcome-funded OA innovation. Aries Systems has been actively partnering with Microbiology Society to help convert their Access Microbiology EM journal site into an open research platform, set to launch in 2022. To learn more, view the Microbiology Society poster presented at OASPA's 2021 virtual conference.
"One of the organizations I've had the good fortune of working with since the day I joined Aries seven years ago is the Microbiology Society. To understand their strategic priorities within the open scholarship space as well as their day-to-day workflow has allowed me to advise them on the option Aries can provide to support an integration with the OA Switchboard and meet their unique requirements," said Star. "Additionally, Aries is elevating the integration with OA Switchboard to further support the Ringgold ID standard. This will allow organizations to unambiguously match transformative agreements to institutions and we are excited to deliver this enhancement in an upcoming release. I highly encourage all publications using Editorial Manager to contact their Aries Account Coordinator if they would like to explore how this integration can meet their needs. We hope this is a testament to what we can achieve when we work collaboratively within the publishing landscape."
For a full recap of the webinar, check out this blog post by the OA Switchboard or watch the session's recording.