Looking back on ISMTE NA 2019
The International Society of Managing & Technical Editors (ISMTE) held their annual North American meeting last week in Durham, NC. Aries Systems is a proud Wi-Fi sponsor for both ISMTE meetings this year, including the European conference to be held later this fall.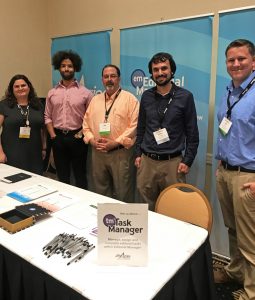 Aries Client Development Manager Bob Donegan was among the Aries staff attending the conference. "As always, the ISMTE conference proved to be a highly impactful venue for Aries staff to connect with current and prospective clients," commented Bob. "The meeting agenda was chock-full of interesting sessions, including Allison Belan's unique take on the RFP process, The Un-RFP – An Alternative Approach to Platform Selection, and Rick Anderson's and Micah Vandegroft's plenary point-counterpoint on Plan S. On Thursday afternoon, Aries Business Systems Analyst Dmitri Khodjakov presented the latest features and future roadmap of Editorial Manager and ProduXion Manager to a packed room of approximately 50 people! We are already looking forward to next year's meeting in Chicago!"
Other members of the Aries team present at ISMTE NA 2019 included Client Services Account Manager Elysia Williams, Business Systems Analyst Claude Tejeda, and Client Services Account Coordinator Jeff Christie.
If you are interested in catching up with the Aries team at a future conference, check out our listing of upcoming events or schedule a meeting in advance. See you at ISMTE EU 2019 in October!