Outlook on ALPSP 2019: A Newcomer's Experience
Last week, the Association of Learned and Professional Society Publishers (ALPSP) held their annual conference and awards in Windsor, UK. Over 360 delegates and speakers attended the 3-day meeting, and Aries Systems is pleased to have attended and sponsored the Wi-Fi for the conference.

Natacha Tapoulal, Aries Client Development Manager in the UK, was among the Aries staff attending ALPSP 2019. As a recent addition to the Aries team and to the scholarly publishing world, this was Natacha's first time participating in an industry event.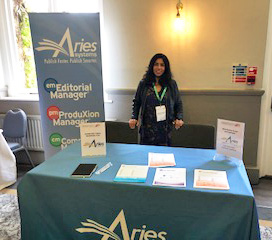 "I absolutely loved it!" said Natacha. "This was not only my first time attending the ALPSP conference, but my first industry event overall! I found the ALPSP environment and community to be welcoming and diverse, with professionals across all levels. It was a very engaging event, and I started to visualize how I should collaborate with all players and new peers in this industry. The networking dinners at the end of the day were a perfect venue to discuss all the burning topics."
"I attended the Breaking the Glass Ceiling session," Natacha continued. "Being a female, it was great to hear a panel talking about the added struggles we face and how they overcame those in this industry. It was refreshing to have so many female leaders among us! I also joined the Cultivating Diversity in Culture within Publishing Houses session. It was highly engaging and I learned about how diversity is perceived in the scholarly publishing industry – it was a real eye-opener! It covered how diversity is beyond gender and race and how companies and individuals have taken a new view and implemented new programs that are just inspiring. I also found the Industry Updates session to be very beneficial. It quickly brought me up to speed on new developments and ideas in the industry, including discussions on open source and open access and their advantages/disadvantages. ALPSP 2019 was a great kick-start to my new role at Aries!"
Other members of the Aries team present at ALPSP 2019 included Aries COO Jennifer Fleet, Director of Product Management Tony Alves, and Director of Sales Jake Kelleher.
If you are interested in catching up with the Aries team at a future conference, check out our listing of upcoming events or schedule a meeting with us in advance!