Peer Review Week 2019: How Aries Supports Quality in Peer Review
Aries Systems is celebrating the 5th year anniversary of Peer Review Week! As the developer of Editorial Manager®, the world's leading manuscript submission and peer review tracking system, you could say Aries is all about peer review! In honor of this year's theme, "Quality in Peer Review," we've outlined some of the different ways Aries Systems' workflow solutions support this concept.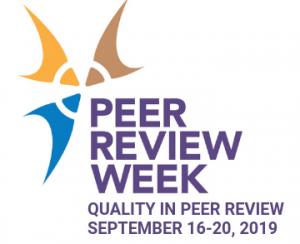 Thousands of Reviewers submit reviews through Editorial Manager every year. While Aries recognizes that we cannot police the quality of these submitted reviews, we do offer a wide range of tools within EM that assists Editors in enforcing policies and makes conducting reviews simpler, which supports overall quality of the peer review process and improves the relationship between publishers and Reviewers.
To see some of these innovative features in action, join us for our free webinar Improving the Peer Review Process: Editor & Reviewer Support Tools on Wednesday, September 18th at 10am EDT. Register today!
In addition to automated email reminders and options for Reviewers to indicate dates when they are unavailable in the system, other useful functionality within Editorial Manager is available to support Editors and Reviewers throughout the peer review process:
Reviewer Support and Acknowledgement
One key feature is the ORCID Peer Review Deposit, or ORCID Reviewer Recognition. This integration within EM offers Reviewers a chance to be publicly credited for their contributions through an automatic acknowledgement on their ORCID record. This feature must be enabled by the journal office and Reviewers must opt-in to allow reviews to be deposited.
Reviewers also have the option to view their personal review history. Reviewers may wish to take advantage of this by having their reviews deposited to their ORCID profile or for other uses, such as academic references or field experience.
Journal offices may also configure their Editorial Manager site to automatically send their Reviewers a thank-you letter following Editor decision. This letter may contain a simple gratitude note or even contain details on the final decision made by the Editor for that manuscript. All of these features help peer Reviewers feel valued for the millions of hours they volunteer each year and recognized for their efforts. Appreciated Reviewers may be more likely to accept future review invitations and uphold high-quality reviews.
Analyzing the Review Process
Editors have access to Enterprise Analytics Reporting functionality within EM to access Reviewer performance and activity. Editors may run the standard Reviewer Thank You List report, which provides important information such as the number of times a reviewer has been invited/uninvited, number of completed reviews, number of times a reviewer has declined an invitation to review, and more.
They may also pull custom reports, which takes a deeper look at the review process, for example, how many reminders were sent to a Reviewer, how long it took a Reviewer to submit their comments, with the option to breakdown data by article type and revision, etc. These types of insights can help Editors make certain decisions throughout peer review. For example, a simple report can display all Reviewers who have not been invited to review, or have not completed a review, by a specified period of time and that data can be used to clean up their Reviewer database, making the Reviewer pool lean and making the selection process more efficient.
Advanced Reviewer Selection
Publishers often face the challenge to find credible Reviewers, which can be a massive bottleneck in the peer review process. Editorial Manager offers a series of tools to help Editors locate qualified peer review candidates. One, Editors can simply match Reviewers to specific content using particular keywords and classifications. If a publication's pool of Reviewers is limited or overburdened, they can turn to Reviewer Discovery, an integration with the ProQuest Database, and the External Reviewer Database (ERD) to search outside of their internal database. Editors can also utilize Reviewer Statistics to assess Reviewer candidates for selection. If a Reviewer declines an invitation to review, they may submit a recommendation for an alternative Reviewer depending on journal EM settings. Finding the right Reviewers in a timely fashion helps streamline the peer review in Editorial Manager.
Customized Review Submission
When Reviewers are ready to submit their comments to the editorial office, they submit their reviews through the Reviewer form in Editorial Manager. The Reviewer form is highly-customizable by the journal office to ensure they receive all reviews in a standard format so they can get the most out of peer review. Editors can modify Reviewer questions on the fly, and configure these questions to be required or optional, conditional, in different formats such checkboxes, buttons, drop-down lists, and text boxes. The Reviewer form can also allow Reviewers to upload files if this setting is enabled. Specific instructions can also be easily included by the journal office throughout the form to guide Reviewers and simplify their experience completing peer reviews. This customizable, online form makes submitting reviews a breeze and also guarantees all peer review recommendations are gathered consistently to later assist in the Editor decision-making process.
Aries' software solutions strive to support quality in peer review by providing an efficient peer review workflow overall. For more information on functionality mentioned here, reach out to your Aries Account Coordinator with questions, visit the Aries video library, or register for our free webinar on Wednesday, September 18th.
Peer Review Week 2019 runs from September 16th-20th.
Follow Along!