The Council of Science Editors (CSE) held their annual meeting earlier this week in Columbus, OH. Aries is pleased to have exhibited and sponsored the Wi-Fi for the conference.
Aries Senior Business Analyst, Caroline Webber, presented during the Update on the Manuscript Exchange Common Approach (MECA) Initiative session on Monday, May 6th at CSE 2019. The session was moderated by our very own Tony Alves, Aries Director of Product Management, who is an active member on the CSE Board of Directors.
Caroline Webber reflected on her attendance of CSE, commenting, "The Council of Science Editors (CSE) is a dynamic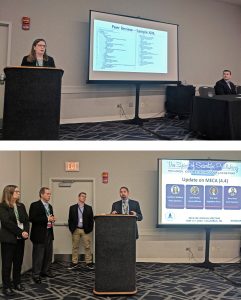 community of editorial professionals dedicated to the responsible and effective communication of science. Many of the CSE members are direct users of submission and production systems, including Editorial Manager and ProduXion Manager, and the conference focuses on real-world editorial workflows as well as strategic issues," she continued. "The theme of this year's CSE conference was 'The Spirit of Scientific Publishing: Inclusion, Identity, Technology and Beyond,' and the collaborative and forward-looking nature of this theme was evident in the session topics such as Diversity and Inclusion from Research to Post-Publication and Building & Managing a Taxonomy: How to Manage All of the Cooks in the Kitchen. The collaborative nature of the conference was illustrated in my own session: Update on the Manuscript Exchange Common Approach (MECA) Initiative. On the panel were Joel Plotkin, CEO of eJournalPress and Eric Hall, Senior Product Manager of HighWire, as well as myself. The CSE conference is a great opportunity to connect with and learn from colleagues in the scientific publishing space!"
Other members of the Aries team present at CSE included Aries COO Jennifer Fleet, Client Development Manager Bob Donegan, and Account Coordinator Jessica Snapke.
If you are interested in catching up with the Aries team at a future conference, check out our listing of upcoming events or schedule a meeting in advance!