Spring 2018 Innovation Update
Hoping to be more efficient this spring? Want to save time during peer review? Try these recent innovations to streamline your journal workflow.
Simplify Author Submission with Xtract
Editorial Manager Xtract saves Authors' time by pre-populating metadata fields using data from their submitted Word manuscript file, reducing the time it takes to complete the submission process and eliminating rekeying of information. Watch the video to see Xtract in action.
Recognize Reviewers with ORCID

Journals using EM can trigger automatic deposit of peer review recognition to the ORCID platform. This capability is carefully configured based on article types and the data added to the record can be minimal for journals with "blind" or "double-blind" peer review workflows, or comprehensive for those with open reviews. Watch the video to learn more.
Equipping Editors with Decision Support Tools


StatReviewer's integration into Editorial Manager means that Editors and Reviewers benefit from automatic and comprehensive statistical analysis at their fingertips, reducing the risk of accepting submissions with inadequate statistical reporting and saving staff time spent on routine checks. Read the StatReviewer FAQ to learn more.
Integrating with Preprint Servers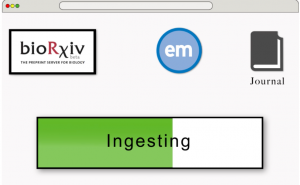 Editorial Manager Ingest Service allows third party applications (such as authoring tools, author services, publishers portals and Preprint Servers) to automatically submit manuscripts to Editorial Manager journals. For example journals from Cell Press, BMC, and PLOS use this capability to receive manuscripts from bioRxiv. This means that authors who post a preprint to bioRxiv, enabling prepublication sharing of findings, can submit – with a single click – the manuscript files and associated metadata to any journal that uses Editorial Manager. Watch the video.
Want to know more about these recent developments? Speak with Aries staff at upcoming conferences or contact us.