SSP 2019 from a First-Time Attendee Perspective
by Aimee DesRoches, Marketing Specialist, Aries Systems
Aries Systems is proud to have exhibited and sponsored the Wi-Fi for the Society for Scholarly Publishing's (SSP) annual meeting last week in San Diego, CA. As a recent addition to the Aries Marketing team earlier this year, SSP 2019 was my first scholarly publishing conference. As my first experience participating in an industry event, I was eager to learn more about the vast world of publishing and meet colleagues for the first time (in sunny San Diego, no less!).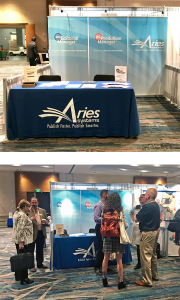 The meeting was well attended, and the exhibit hall was packed between session breaks. Many of those who visited the Aries booth were current Editorial Manager users, and I was thrilled to engage with them in person for the first time. It was great to hear the positive impact EM has had on various publishing processes and made me even more excited to interact with more customers during our upcoming Editorial Manager User Group Meeting (EMUG 2019) in Boston in a few weeks! I was also pleasantly surprised that the conference had a few sessions and receptions tailored to beginners like myself at SSP, designed to help us make the most out of the meeting and serve as introductory networking opportunities.
The conference's theme of global perspectives and creating a new status quo was evident throughout the meeting's agenda, but for me, I would say the underlying messages of SSP were accessibility and collaboration. Keynote speakers highlighted the billions of people not fully served in the industry due to location, lack of cultural/societal development, and lack of inclusion of the disabled; nine other sessions during the three-day conference were dedicated to open knowledge alone.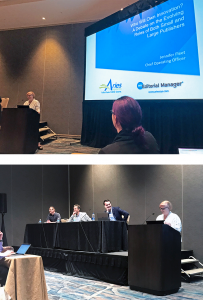 Aries COO Jennifer Fleet participated as a panelist in Who Will Own Innovation? A Debate on the Evolving Roles of Both Small and Large Publishers on the second day of the conference. Moderated by Jacob Wilcock of Atypon, the panel also included Gabe Harp of MIT Press and Jonathan Morgan of the American Chemical Society.
During her presentation, Fleet specifically focused on the word own in the titular question of Who will own innovation?, commenting that for one to own innovation does not equate to having all the answers. Instead, those who own innovation should help facilitate finding answers or be an active participant in solutions or developments. In response to the word who in the titular question, the panel had an overall unified answer that "nobody and everybody" will drive innovation. Each panelist determined that community collaboration, from both small and large entities, was imperative to industry innovation.
Other members of the Aries team present at SSP 2019 included Aries Director of Product Management Tony Alves, Director of Sales Jake Kelleher, Director of Client Services Kate Horgan, US Client Services Manager Victoria Beaulac, Client Development Manager Bob Donegan, and Senior Business Systems Analyst Stacey Lavelle.
With a diverse selection of sessions and welcoming culture, I am already looking forward to next year's meeting, which is to be held locally to the Aries office in Boston, MA! If you are interested in catching up with the Aries team at a future conference, check out our listing of upcoming events or schedule a meeting in advance.