Thank You for Attending EEMUG 2017
Thank you to all those who joined us in London on January 12th-13th for the 13th Annual EEMUG. We are grateful to the many attendees and presenters who made the event a success.
At EMUG 2016 in Boston, the Feature Workshop session participants produced a list of 'wish list' EM features. EEMUG attendees were greeted by an interactive poster, inviting them to 'vote' on which top-ranked features "made them smile" the most. Attendees voted for their favorites by placing happy and enamored emojis next to their top three choices. Check out the results below: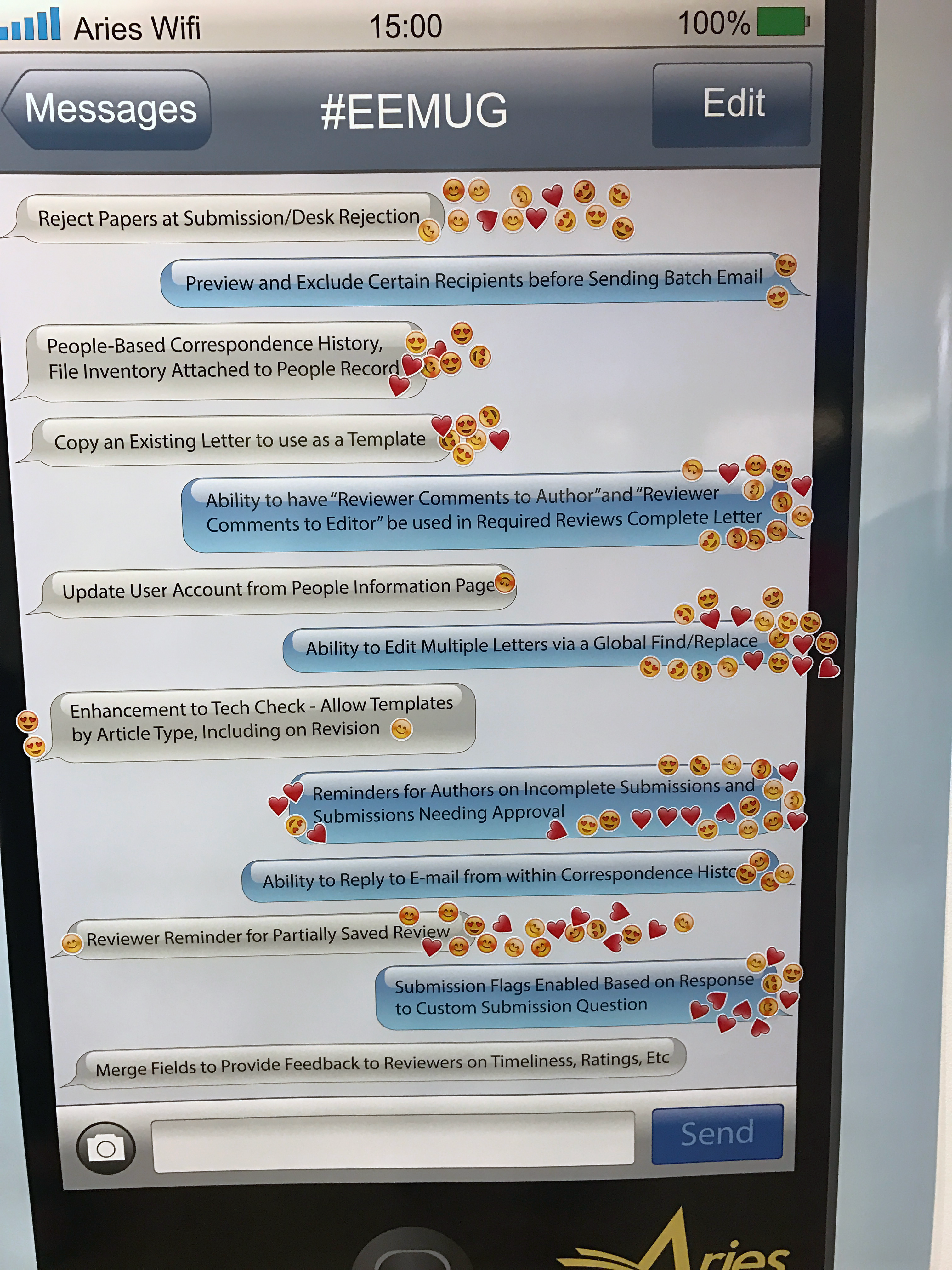 Reminders for authors on incomplete submissions & submissions needing approval – 23 votes
Reviewer reminder for partially saved review – 19 votes
Ability to edit multiple letters via a global find/replace – 19 votes
Reject papers at submission/desk reject – 14 votes
Ability to have reviewer comments to author and reviewer comments to editor be used in required reviews complete letter – 12 votes
Submission flags enabled based on response to custom submission question – 11 votes
People-based correspondence history, file inventory attached to people record – 8 votes
Copy an existing letter to use as a template – 7 votes
Ability to reply to email from within correspondence history – 4 votes
Enhancement to tech check – allow templates by article type, including on revision – 3 votes
Preview and exclude certain recipients before sending batch email – 2 votes
Update user account from people information page – 1 vote
Merge field to provide feedback to Reviewers on timeliness, ratings, etc. – 0 votes
Please feel free to contact us with any additional feedback or to get access to meeting presentations on the web. And save the date for our 15th Annual U.S. Meeting, which will take place on June 22nd and 23rd in Boston.