Using System Help in Editorial Manager
Often, Editorial Manager users may feel stuck or have a question while they are completing their work in the system. In these instances, it is not always convenient to reach out to journal system administrators, support staff, or an Aries Account Coordinator with questions. Luckily, the comprehensive Help system available in Editorial Manager and ProduXion Manager is an excellent way to find simple answers to questions as they arise without having to leave the interface.
The link to Help appears in the navigation bar of every Editorial Manager deployment. Visitors to the page can access the Help system without logging in. This allows new users, or users who are struggling to log in, to search the Help system.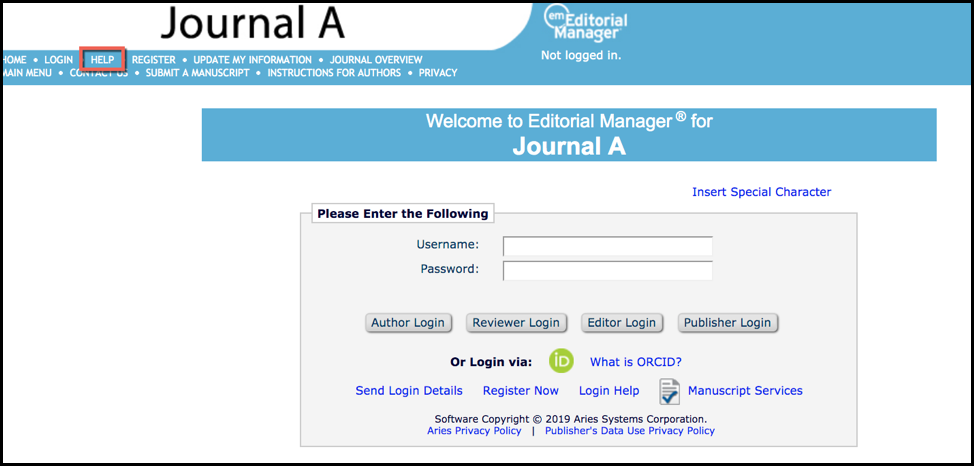 The EM Help system is maintained by Aries Product Management staff. We asked Documentation Specialist and Release Coordinator Sam Sherman to give us some background on the system and tips and tricks for using it.
"The Help system has been undergoing revision over the past two years to reorganize the content and target it to user roles," Sam explained. "This should enable users to find the answers to their questions more quickly and easily."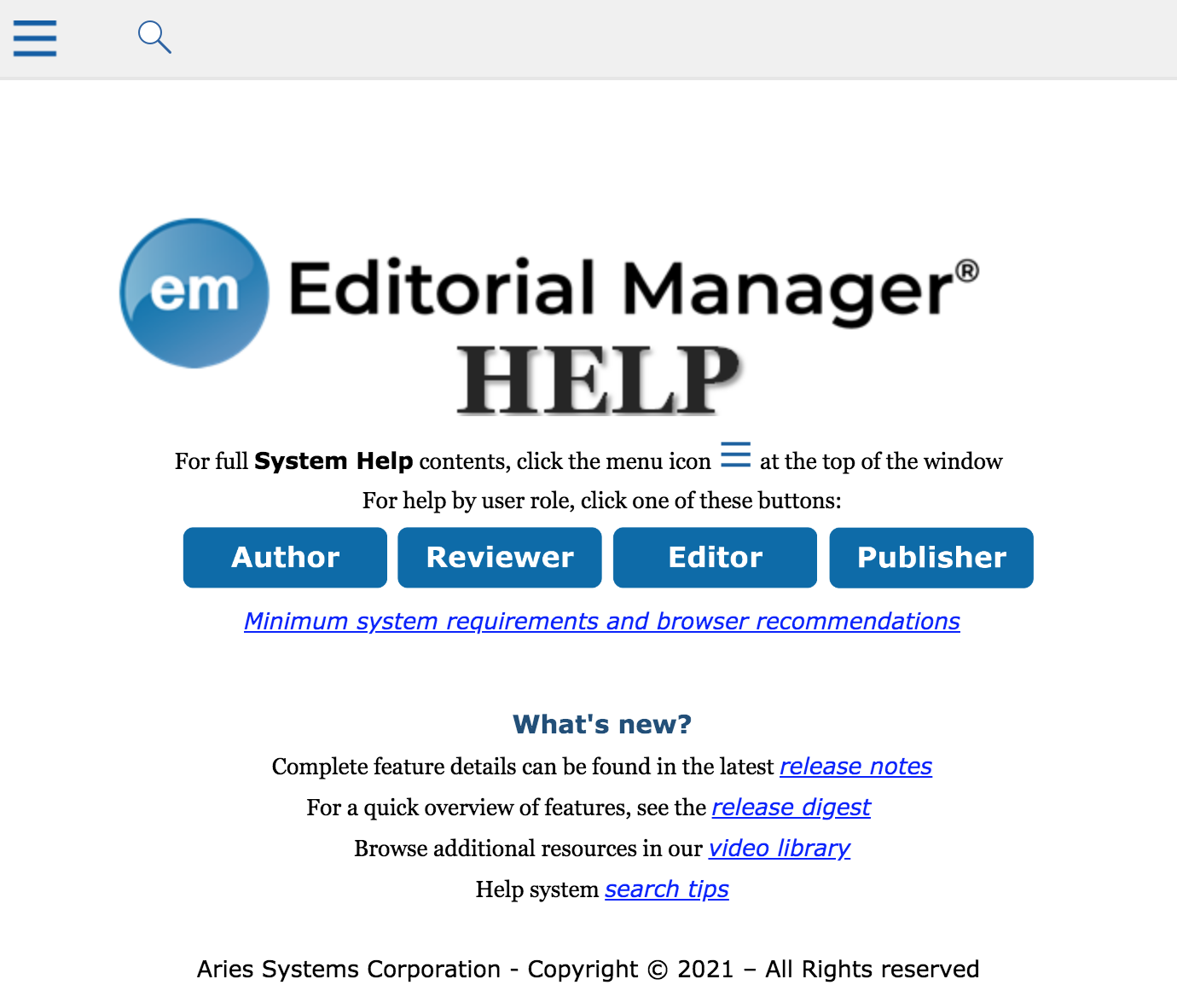 Clicking the link Help link opens a popup window displaying the EM Help main page, which allows users to decide how to access information and provides a few quick links. The popup also features a menu icon and search tool at the top of the page.
Quick links on this page include a link to the minimum system requirements and browser recommendations, links to the most current release notes and release notes digest, and a link to the Aries video library.
Users can select Help topics by role (Author, Reviewer, Editor, Publisher). Clicking on Reviewer Help, for example, opens a page with a list of topics that apply to activities a Reviewer performs in EM. These articles explain the functionality as a Reviewer experiences it.
Using the menu icon opens EM Help's full table of contents. A System Administrator can use this access to find articles that explain features more comprehensively and include configuration options.
Updating EM Help
So how does such a comprehensiveHelp system stay updated?
"It's an ongoing process," says Sam. "When we began overhauling the system, we had to prioritize sections. An added challenge is that for each new release there is new content to be added and changes to existing functionality."
Another big challenge is the need to keep Help instructions "workflow agnostic," because configuration options are so variable. "We have to write the Help articles generically. They can't be specific to a particular workflow. So we try to use language like, 'you may see this screen', because everyone's experience can be slightly different, depending on how sites are configured," she explained.
Tips & Tricks for Using EM Help
If you're reading a Help article and click one of the links in the article to go to another page and then find you would like to return to the previous page, you can hold down the ALT button and left arrow key to return.
Sam gave us a few tips for using EM Help. The search tool at the top of the page is a great way to surface information by keyword or phrase. However, keep in mind when using the search function that the search results will include both configuration articles and user articles, so be sure to browse the list to find the article that is most relevant to your role.
Finally, if you find that the search tool is "thinking" for a long time, try re-clicking the search icon. This often allows the search to resolve with results.
Improving EM Help Further
As with all Aries software, we strive to make the Help system user-friendly and intuitive. "The idea behind the Help tool is we want to get someone an answer as quickly as possible," said Sam. Part of this includes making sure consistent phrasing is used across Help articles so that the most relevant items appear in search. One future improvement to the Help system may include a glossary function that helps define terms as they are used across Aries products. The Aries staff also welcomes any feedback on the Help system and suggestions for improvements from users. If you'd like to provide feedback, please send us your suggestion at marketing@ariessys.com.