OA Week 2020: Read-and-Publish vs. Publish-and-Read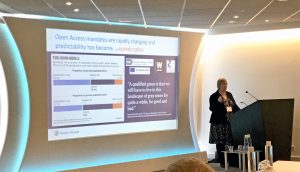 Jayne Marks, VP of Global Publishing at Wolters Kluwer, Health joined Aries as a guest speaker during our 2020 European Editorial Manager User Group meeting (EEMUG 2020) in London this past January. Marks presented during EEMUG's Open Access, Read & Publish and Transformative Agreements session, providing an overview of the various publishing business models, the advantages and disadvantages stemming from each and their impact on the industry. During her presentation, Marks noted that a common misconception in the publishing community is the belief that "Read-and-Publish" and "Publish-and-Read" are the exact same concept, and the terms are often mistakenly used interchangeably, as she herself had been guilty of doing in the past.
In honor of Open Access Week 2020, we will define the difference between these two transformative agreement models at a high-level.
Transformative Agreements
If payment is to be transferred from traditional subscription-based reading to open access publishing, the library/publisher contract is considered a transformative agreement. Transformative agreements are often categorized as either Read-and-Publish or Publish-and-Read. While both concepts are very similar, they provide different perspectives on how to approach contract negotiations. These contracts have two main focuses, as the names imply:
Read: Institutional or individual access to a publisher's subscription content.
Publish: The Article Processing Charges (APCs) typically associated with Open Access are waived for the institution or pre-built into the contract cost.
Read & Publish vs. Publish & Read
Under a Read-and-Publish contract, the publisher receives a combined payment for both reading publishing in a single agreement. By bundling these two fees together, payments are brought under a contractual agreement rather than bring processed by Authors ad hoc. Therefore, the main focus is on the Read aspect. Under a Publish-and-Read contract, the publisher receives payment only for publishing fees, with reading fees included in the agreement at no additional cost; leaving the focus more on the Publish aspect.
The key takeaway is that Publish & Read puts greater emphasis on Open Access publishing, whereas Read & Publish puts more emphasis on access to content from a publisher. Both models allow libraries to pursue their goal of a cost-neutral agreement in comparison with their subscription-based agreement. Aries Systems and our suite of workflow solutions (including Editorial Manager® and ProduXion Manager®) support both open access and subscription-based business models.
https://scholarlykitchen.sspnet.org/2019/04/23/transformative-agreements/
https://info.reprintsdesk.com/about/blog/2019/the-lowdown-on-read-publish