Thank you to all of the attendees who joined us in London for our 16th annual European user group meeting last week! Aries was thrilled to see many familiar faces and was excited to welcome over 20 first-time attendees this year!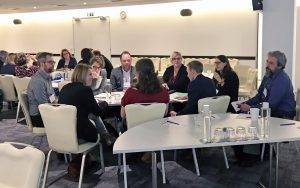 To kick-off the first day of EEMUG 2020, Aries Director of Product Management Tony Alves presented on an overview of Editorial Manager® (EM) and ProduXion Manager® (PM) 16.1 and 17.0 software versions following welcomes and introductions. From there, guests dived right into our infamous Feature Workshop. Voted the most popular and beneficial session among attendees, Feature Workshop is a highly interactive and engaging session designed to solicit direct feedback from EM/PM users. Eight separate groups of attendees lead by two members of Aries staff discussed their personal workflows, shared challenges and roadblocks, and brainstormed new system features they would like to see developed. Many attendees come prepared in advance with feature wish-lists from their organization to share! Groups then presented their top three feature ideas to the assembly and the Aries Product Management team after lunch. This session is instrumental in crafting the development roadmap and improving Aries's solutions for future releases.
Features suggested from the previous user group meeting, EMUG 2019, held in June 2019 in Boston, Massachusetts were displayed on a large poster throughout the two-day meeting. Attendees were encouraged to vote for their top three favorite features using stickers on the poster to help the Aries Product Management team prioritize functionality for development. Check out the results from the interactive features poster below!
After Feature Workshop, attendees headed off to their pre-selected breakout sessions. Editorial Manager Bootcamp offered a thorough introduction to basic EM functionality from multiple role view-points – perfect for beginners using the system! Other attendees opted to join breakout sessions on Enterprise Analytical Reporting, which covered live reporting demonstrations based on relevant use cases. Cross Publishing Functions in EM & PM was a popular new breakout session this year, which included an introduction to cross publication functionality in ProduXion Manager and a collaborative workshop to brainstorm how this technology can be extended to Editorial Manager.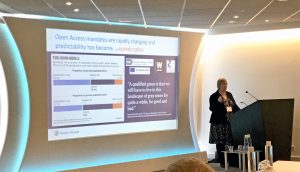 Jayne Marks, VP of Global Publishing at Wolters Kluwer, Health joined us as our guest speaker for Open Access, Read & Publish and Transformative Agreements to conclude the first day of EEMUG 2020 on Thursday evening. Marks presented an overview of the various publishing business models, the advantages and disadvantages stemming from each, and their impact on the industry. "Publishing models are changing and the only predictable thing about them is that they are unpredictable," stated Marks. She highlighted that in the Open Access landscape alone, there are 996 different policies and mandates currently included in the Registry of Open Access Repository Mandates and Policies (ROARMAP), each with their own "flavor". Marks then described the difference between Read & Publish and Publish & Read and claimed many publishers often mistakenly use the terms interchangeably (as she had herself in the past). After discussing Transformative Agreements, Marks moved to journal transformations. She advised publishers to consider their Author base, and determine whether their Authors realistically have access to funding for APCs before transitioning their publication to another business model. Lastly, she stated that in order to succeed in the OA future, publishers will require vigilance and flexibility, specifically in these areas: compliance, indexing and adaptability. Following Mark's presentation, a cocktail reception was held for attendees and Aries staff to network and enjoy drinks and hors d'oeuvres.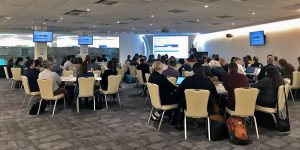 Day two of the meeting began with Update on LiXuid Manuscript™ on Friday morning. Aries Business Systems Analyst Sean MacRae gave a brief overview of the importance of XML-first workflows, Aries XML, and future development plans for LiXuid Manuscript. Aries Business Systems Analyst Charles O'Connor then conducted a live demonstration of the newly launched LiXuid Manuscript XML editing tool. Attendees viewed first-hand the word processor-like interface and various functions of the editing tool designed to streamline the production workflow.
For a more in-depth overview of the basics of XML and the opportunities it creates for publishers, attendees had the option of attending the XML Bootcamp breakout session later in the afternoon. Other popular breakout sessions from the meeting included Effective Communication in EM: Letters and More, Task Manager Overview, Inviting Reviewers & Reviewer Recognition, Configuration Audit & Consultation Workshop and Increased Convenience for Editors. For the final session of the meeting, Aries Director of Product Management Tony Alves hosted The Road Ahead, highlighting what's to come on the Aries development roadmap beyond version 17.1. Presentations from EEMUG 2020 can be accessed here.
Save the date for our next user group meeting on June 11-12th in Boston, MA (EMUG 2020). Stay tuned for more details!
Feature Poster Voting Results: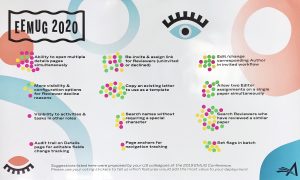 Ability to open multiple details pages simultaneously: 17 votes
Re-invite and assign link for Reviewers (uninvited or declined): 16 votes
Edit/change corresponding Author in invited workflow: 12 votes
More visibility and configuration options for Review decline reasons: 5 votes
Copy and existing letter to use as a template: 19 votes
Allow two Editor assignments on a single paper simultaneously: 11 votes
Visibility to activities and tasks in other roles: 1 vote
Search names without requiring a special character: 7 votes
Search Reviewers who have reviewed a similar paper: 22 votes
Audit trail on details page for editable fields change tracking: 1 votes
Page anchors for navigation tracking: 2 votes
Set flags in batch: 9 votes