Reflecting on 2022: Reconnecting with our Communities
As we prepare to welcome the new year, we are taking a moment to reflect on 2022. Looking back on the last twelve months at Aries, one key theme is constant – reconnecting with our communities. The new ways of working introduced by the pandemic has inspired us to further prioritize our communities – internal, local, and user communities alike – and find flexible ways to support and connect with them. Here's an Aries virtual postcard highlighting our community engagement this past year.


Internal & Local Communities
Aries made it a priority in 2022 to provide our staff with more opportunities to get involved in support of our local communities. In May, several members of the Aries global team volunteered to pick up trash, plant gardens, and take on a series of small environmentally friendly activities in honor of Earth Day 2022. Following the U.S. Thanksgiving holiday, members of the Aries team partnered with Community Giving Tree to support their ongoing programs to provide everyday essentials to local children and families in need at one of their Giving Centers in Massachusetts. Rather than exchanging gifts, participating Aries staff volunteered to donate to charities proposed by their colleagues as part of our internal '12 Days of Holiday Cheer' series. Donations were made to organizations such as, Spark! Community Center, Breast Cancer Research Fund, Alzheimer's Association, and local nonprofit learning centers.
As most Aries staff choose to work in a remote or a hybrid model, the Aries Culture Champions team has worked to organize new clubs and social opportunities for global employees to connect beyond the scope of their work. In addition to the aforementioned volunteer activities, Aries has also hosted virtual trivia, lunches, meet and greets, as well as themed BINGO and murder mystery games. Most recently, Aries hosted the first in-person company holiday party since the start of the pandemic at venue near our headquarters in North Andover, MA. Additionally, Aries has launched new employee resource groups (ERGs) including Aries PRIDE dedicated to LQBTG+ topics, Aries THRIVE dedicated to career and personal advancements, and the Aries Book Club!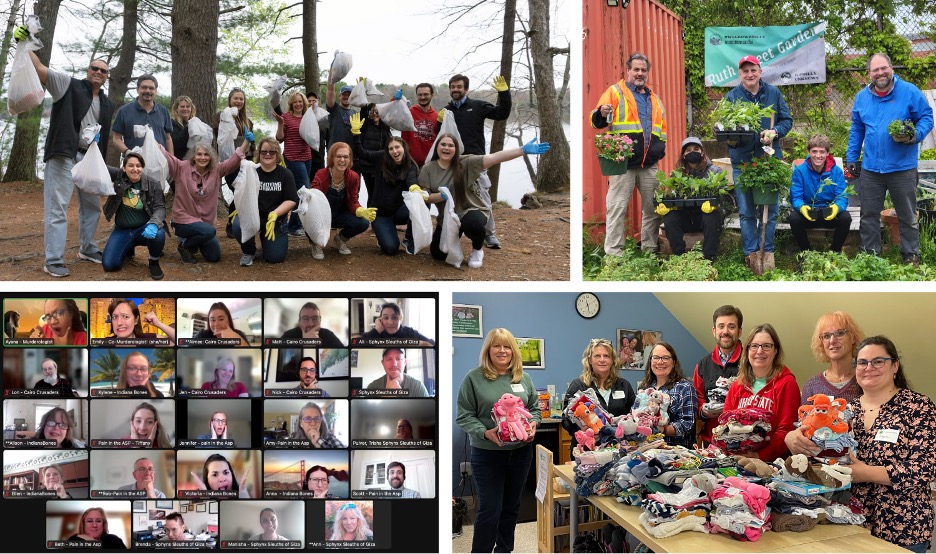 User & Industry Communities
Aries was pleased to reconnect with our EM/PM users and other industry colleagues at many in-person and virtual events throughout the year! Aries hosted a three day, knowledge-packed virtual user group meeting (EMUG 2022) in June, joined by seven guest speakers from PLOS, Wolters Kluwer, Elsevier, JoVE, CCC, and Digital Science for sessions highlighting partner integrations, customer case studies, and panel-style discussions. Aries continued our participation as a member of the Peer Review Week Steering Committee and hosted an educational webinar on Publication Ethics alongside guest speakers from APA and COPE to align with the theme of Research Integrity. As a sponsor and partner of the OA Switchboard, Aries hosted a webinar on the Power of PIDs on their behalf and participated on their panel in October.
While many of the industry conferences on our calendar maintained a virtual setting, Aries was thrilled to attend and present at a few events on-site, such as SSP, ALPSP, LBF, Peer Review Congress, and more! For the first time since 2019, Aries had the opportunity to exhibit at the Frankfurt Book Fair, attend the STM Frankfurt conference, and host our annual industry advisory board meeting in-person that same week in Frankfurt, Germany! Holly Falk-Krzesinski, VP of Research Intelligence at Elsevier, joined our board meeting as a guest speaker to present and facilitate discussion on self-reported diversity data in publishing. Aries also had the privilege of partnering with Holly and 55 other organizations that make the Joint Commitment for action on inclusion and diversity in publishing collective in 2022 to support the initiative.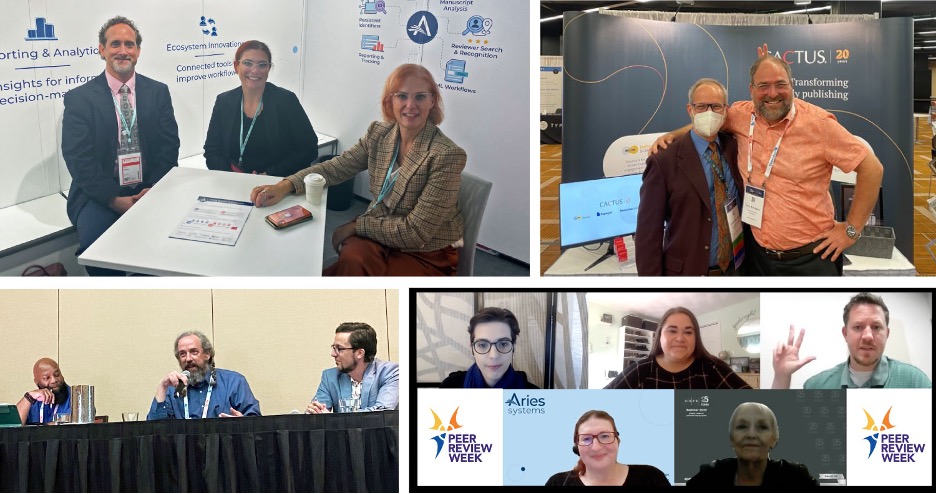 We look forward to continuing our commitment to support and connect with our communities in 2023! Happy holidays from the Aries team!