Successful Launch of LiXuid Manuscript during Frankfurter Buchmesse 2019
Last month, Aries Systems attended the 2019 Frankfurt Book Fair along with 302,267 other visitors. Aries' latest innovation, LiXuid Manuscript™, made its debut at the conference in Germany.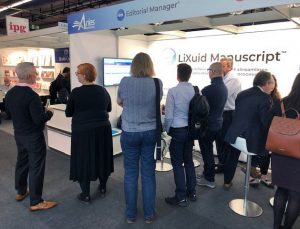 Aries Business Systems Analyst Charles O'Connor conducted multiple live demos of the new LiXuid XML editing tool at the Aries booth throughout the conference. Onlookers observed the word processor-like interface of the XML editor and its various features that help streamline the production workflow (pictured right).
The XML editing tool works in conjunction with ProduXion Manager® and allows edits to be made directly to a single document by the content experts themselves. While changes are made to the document, the editor constantly updates and validates the underlying XML for you, removing the need for composition vendors or expertise of XML. This results in reduced misinterpretation errors and fewer rounds of edits between copyeditors, Authors and production staff. With faster turnaround times and cleaner metadata, LiXuid Manuscript is a cost-effective and time-saving solution.
"We attend and exhibit at the fair each year as it is a global hub for the publishing industry, especially the STM community in Hall 4.2," stated Jake Kelleher, Aries Director of Sales. "Frankfurt Book Fair 2019 was a very exciting show in particular this year for the Aries team as we were able to demonstrate our new workflow solution, LiXuid Manuscript, to customers and prospects for the first time. They were thoroughly impressed with our XML-first product strategy and we are thrilled with the positive response generated from the LiXuid launch. We look forward to continuing conversations started in Frankfurt and showing the world our vision for the future of scholarly publishing."
Other members of the Aries team present at FBF 2019 included Aries Managing Director Jennifer Fleet, Director of Client Services Kate Horgan, US Client Development Manager Bob Donegan, General Manager Rose Nottebaum, Client Services Account Manager Elysia Williams, and UK Client Development Manager Natacha Tapoulal.
LiXuid Manuscript is currently undergoing user acceptance testing and will move to the pilot testing phase in early 2020. To learn more about LiXuid and its multi-year development roadmap, watch the introductory video or download the product sheet.
If you are interested in meeting with the Aries team at a future conference, check out our listing of upcoming events or schedule a meeting with us in advance!