Aries Wins Second Place at the NEPCo Awards 2019
Aries was invited to participate in the New England Publishing Collaboration (NEPCo) Awards ceremony at The Rockwell just outside of Boston, MA earlier this week.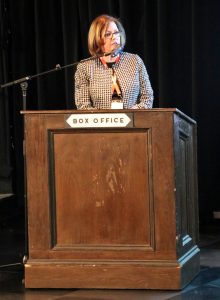 Following rounds of presentations from each of the finalists, Aries Systems' collaboration with the NISO MECA Working Group was awarded second place from the NEPCo judges panel and also first place from the audience's voted choice. Delivering Aries' award-winning presentation, Business Systems Analyst Sally Ubnoske, pictured right.
Finishing in first place was Westchester Publisher Services for their collaboration with Dropbox.
Other organizations and projects entered included:
Copyright Clearance Center (collaborating with Fonto)
Westchester Publishing Services (collaborating with Lorenz)
FableVision (collaborating with MA Department of Mental Health, Walker Cares, and Express Yourself).
Aries Systems has collaborated with HighWire, eJournalPress, and Clarivate to form the NISO Working Group since 2017 to address an industry-wide issue surrounding inter-system manuscript transfer. Manuscript Exchange Common Approach (MECA) is a cross-organizational initiative that strives to facilitate and standardize multiple types of manuscript exchange to avoid loss of important data during manuscript transfer across publications. Regardless of the manuscript submission and peer review system used, Aries aims to offer seamless transfer solutions to streamline the process and reduce duplication of efforts from Authors, Editors and Reviewers across the board. Many other publishers and organizations have since participated or used MECA guidelines in their workflows.
Aries COO Jennifer Fleet is also an acting member of the NEPCo VIP Advisory Board dedicated to the development and improvement of future events.