Supporting Publishers and Open Access COVID-19 Research
Every day, thousands of journals around the world depend on Aries Systems for their manuscript submission and peer review processing needs – and even more so during this time of uncertainty. Aries is dedicated to supporting publishers, EM/PM users and the research community during these unprecedented times.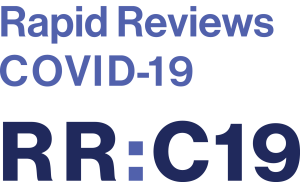 As part of our commitment, Aries worked with MIT Press to provide them with a new Editorial Manager® (EM) site for their recently established journal, Rapid Reviews: COVID-19 (RR:C19), free of charge. RR:C19 is an open-access overlay journal designed to accelerate the peer review process for COVID-19- research preprints to advance findings, and prevent the distribution of misinformed or misleading scientific news. Valuing transparency and reliability, RR:C19's mission is to accelerate peer review of COVID-19-related research across a broad range of disciplines in almost-real-time, while aiming to balance the need for rigor with the need for rapid responses. More information about Rapid Reviews: COVID-19's content review approach is available.
Aries strives to support the scholarly publishing community beyond offering a complimentary EM journal site dedicated to expediting the submission, peer review, and output of research related to the novel coronavirus. Scripting letters and instructional changes, and COVID-19 specific Article Type designations and flags, are some additional measures that Aries has put in place to better support publishers in their efforts to quickly, accurately and reliably disseminate COVID-19 related research. We have also developed a set of tips for Editorial Manager and ProduXion Manager users to help optimize their workflows under the current climate.
Although these are challenging times, we feel confident that as a company and community, we can get through this together. Please reach out to your Aries Client Services Account Coordinator to discuss how we can best support you today and in the future!