Trust in Peer Review: Editor Decision Support Tools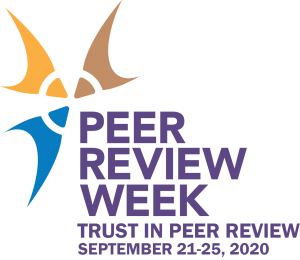 Aries Systems is celebrating Peer Review Week's (PRW) 6th annual event! In a year clouded by so much uncertainty, distrust, skepticism and confusion, building trust has never been as critical as it is today, in the publishing landscape and beyond. From predatory journals, to fraudulent peer review, plagiarism, reproducibility concerns and more, the research community faces its fair share of challenges.
In honor of this year's theme, we are highlighting a few key features in Editorial Manager® (EM) that promote a sense of trust, reliability, and confidence within peer review workflows.
Identity Confidence Check
The publishing community occasionally suffers from cases of questionable authorship and fraudulent peer review, clouding the quality of research. EM comes equipped with Identity Confidence Check (ICC), a tool designed to help Editors evaluate unknown researchers by generating a confidence rating. The score is based on several sets of data within EM, ORCID individual iDs, Ringgold institutional iDs, country selections, email verifications, and other sources. ICC saves journal office staff the tedious task of manually researching individuals while helping safeguard publications against fraudulent activity. Confidence score calculations are highly configurable and transparent.
Similarity Check
Ensuring manuscript authenticity is crucial for Editors and journal staff. EM offers Similarity Check, a potential plagiarism detection tool that compares text from submitted manuscripts to information on the Internet and content from more than 40 million published research articles from nearly 600 global publishers. When viewing recently submitted manuscripts in EM, Editors with appropriate role permissions in EM are provided with a Similarity Check score linked to a detailed report. Based on these scores and reports Editors can then decide to remove the submission, send the manuscript back to the Author, or continue with peer review. Depending on journal configuration choices, Authors may also have the ability to view their manuscript's Similarity Check score and report. Warning Editors of potential instances of plagiarism is key to saving time, maintaining high-quality research and adhering to integrity standards.
Note: In order to use Similarity Check, the journal office must first become a Crossref®-member publication and agree to participate in the Similarity Check plagiarism detection service. Once this partnership is established, similarity reports can be displayed immediately with no delay in data generation.
Automated Reference Checking
In addition to automatically restructuring and formatting references for Authors, Editorial Manager's Reference Checking solution is also a great tool for reference validation. During manuscript submission, eXtyles reference processing tools integrated within EM automatically extract unformatted bibliographic metadata and use heuristics to analyze, peel apart, and restructure these references. To validate citations, reference elements (such as article type, Author name, volume, issue, etc.) are tagged in clean, structured XML and are used to query external databases such as PubMed® and Crossref® behind the scenes. A successful match from an external database is made in most cases even if the Author has omitted data or used non-standard journal abbreviations. Not only does this innovative solution save Authors and Editors time and money spent revising references and complying with bibliographic templates, it also streamlines the entire reference validation process and ensures the manuscript's references are credible. The Editor and Reviewer experience may also be enhanced by quick access to the cited material thanks to hyperlinked references.
Automated CheckCIF
For journals in chemistry and materials science fields, Authors are often required to have their crystallographic data files validated. The IUCs's CheckCIF system is integrated in EM for automatic assessment of Crystallographic Information Files (CIF), a standard text file format for representing crystallographic information. CheckCIF automatically reports on the consistency and integrity of crystal structure represented in the CIF file. In addition to saving Authors time, CheckCIF allows Editors to easily validate data directly in their peer review workflow. This built-in solution helps to streamline the process and ensure submitted data is accurate.
In addition to the services listed above, Aries Systems is currently vetting and developing more options for publishers that support trust in the peer review and publishing process. Aries is working on integrating manuscript evaluation tools, such as SciScore for rigor and reproducibility, into Editorial Manager for release in 2021. Stay tuned!
For more information on the solutions above, or for help with activating and configuring these tools into your EM workflow, contact your Aries Account Coordinator.
Follow Along!