Did You Know? Save Time with Single Sign-On using your ORCID Credentials
Attention Authors and Reviewers! Struggling to maintain multiple sets of login credentials for different journals utilizing Editorial Manager? Did you know that you can save time and reduce hassle by using your ORCID credentials to login to Editorial Manager?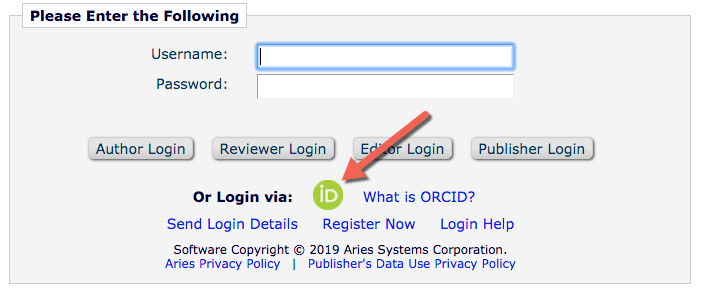 In many instances, Authors and Reviewers have the option of registering for a particular journal using their ORCID. Once the ORCID is verified, they may then login with their ORCID credentials rather than with their Editorial Manager username and password. This eliminates the need to remember numerous sets of usernames and passwords for each individual journal they are working with, ultimately streamlining the login process. This simplified workflow greatly benefits individuals who contribute to multiple journals by saving them the time and hassle of having to remember multiple sets of login credentials.
Journals must have the ORCID Single Sign-On configuration activated within their EM deployment for users to take advantage of this functionality. If turned on, users will see the option to login via ORCID within the sign-in box. Editorial Manager communicates via the ORCID API to authorize the login. Journal staff also have the option to customize the ORCID sign-in page with their unique organizational branding.
Didn't link your ORCID to your account when you originally registered? No problem. You can add your ORCID details at any time on the "Update My Information" page.
If your journal would like assistance configuring ORCID Single Sign-On to streamline registration and login for Authors and Reviewers, don't hesitate to contact your Aries Account Coordinator.
Check back on the first Monday of each month for new insights in the Aries "Did You Know?" blog series!
ORCID Single Sign On
Runtime

1:40