Happy Holidays from Aries
Happy holidays & best wishes for the new year from all of us at Aries!

From all of us at Aries, we want to wish you a safe, happy, and healthy new year! As we look forward to 2019, we can't help but feel thankful for our amazing staff, customers, and partners who have allowed us to make 2018 a success. We couldn't have done it without you! Here are some of our favorite highlights from 2018:
New Integrations & Partners
We expanded numerous partner integrations in 2018 to further improve the Author, Editor, and Reviewer experience. Among the most innovative partnerships are StatReviewer and ORCID Peer Reviewer Recognition.

StatReviewer, made available in Editorial Manager version 15.0, is a decision support tool that automatically checks submitted manuscripts for statistical accuracy, content, and style and returns a detailed report for authorized users within minutes. Editors and Reviewers benefit from automatic and comprehensive statistical analysis at their fingertips. Learn more.

In 2018, ORCID Reviewer Recognition joined Aries' robust integration with ORCID. With ORCID Reviewer Recognition, journals trigger automatic deposit of peer review recognition to the ORCID platform. Journals retain control over the data shared via the Reviewer's ORCID record, adhering to blinding policies. GDPR compliance is ensured via Reviewer opt-in. Learn more.
Improved Author Interface, Metadata Extraction with Xtract
New year, new look! Standard as of Editorial Manager version 15.0, Authors experience an updated, streamlined interface including EM Xtract. Xtract saves Authors' time by pre-populating metadata fields using data from the submitted manuscript file, reducing the time it takes to complete the submission process and eliminating rekeying of information.
Growing Staff, More Resources
Aries happily added many new staff members to our team in 2018. To help support this growth, we relocated to a new office in North Andover's West Mill.
In September 2018, Aries was acquired by Elsevier. As we move toward 2019, the additional resources provided by Elsevier will help further accelerate the pace of workflow innovations to benefit all users. The inaugural meeting of the Aries Industry Advisory Board (AIAB)—an independent group providing advice and guidance on strategic developments and initiatives in the scholarly publishing community—met on December 7, 2018. Stay tuned for more information on AIAB.
New Releases & Features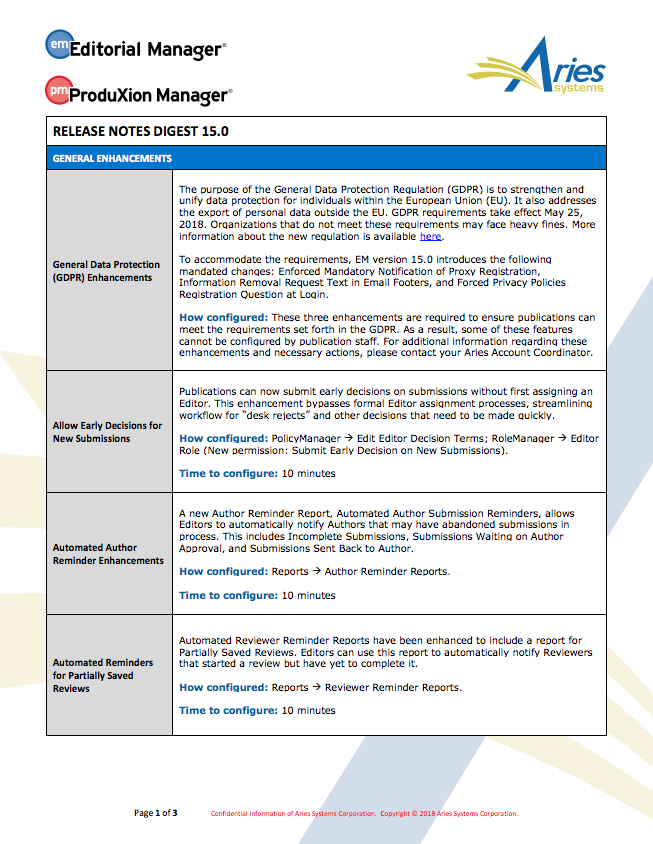 In versions 15.0 and 15.1, we've released dozens of new Editorial Manager and ProduXion Manager features—all driven by the needs of our users.
At our two 2018 User Groups in London and Boston, more than 200 EM and PM users shared their feedback with our Product Management team. As we ring in 2019, we can't wait to get started on some of these suggestions!