The User Community: Many ways to get involved
Right now in London, nearly 100 industry professionals also known as the European Editorial Manager User Group are heads down collaborating to identify new features and functionality, learn about current and planned innovation, and discuss workflow trends and implementations that serve as infrastructure, enabling efficiency.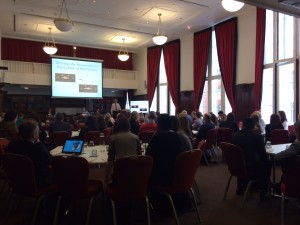 There are three annual opportunities for users to meet, learn, and provide feedback: in Boston, in London and in Tokyo. While these meetings offer face to face interaction between Aries leaders and the user community, as well as opportunities for networking with industry peers, the user group engages virtually at key points throughout the year.
Listserv
Editorial Manager and ProduXion Manager users connect on an active and helpful listserv. Users often ask one another about best practices, quick sanity checks, and offer one another helpful feedback.
Testing
Users of EM and PM are always welcome to test forthcoming versions. It's a win-win scenario because editorial offices are able to learn and provide feedback on the new version before it is fully available, and Aries uses that feedback to improve the release. Everyone learns, and the release is perfected! Want to get in on this for 13.0?
Nominated Support
All users benefit from ongoing, nominated support from our account coordinators. There are no help desks, no endless queues, just helpful, prompt support. Because account coordinators are nominated, they understand the unique, nuanced workflows in play, so that there's no time lost to explaining, or re-explaining details that are part of a publication's DNA.
Clearly, there are many ways to be involved in this engaged, lively community!